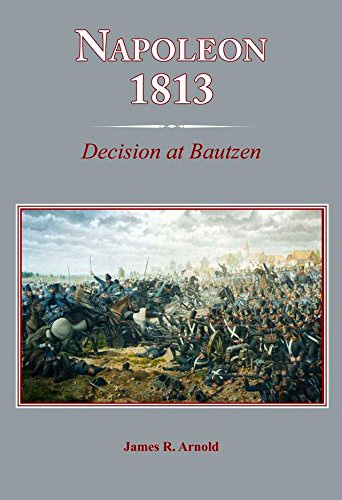 By James R. Arnold
Hardcover: 464 pages
Publisher: Napoleon Books (2015)
ISBN-10: 0967098580
ISBN-13: 978-0967098586
Dimensions: 9.4 x 6.7 x 1.8 inches
Price: $60.00 plus postage
On June 22, 1812, 430,000 soldiers commanded by Emperor Napoleon I invaded Russia. Few doubted that this enormous force would topple the Russian empire. Among the dissenters were a determined group of Russians and Prussians whose hatred of the upstart 'Corsican' emperor knew few bounds. The fate of Europe trembled in the balance during the summer days of 1812. In an amazing reversal of fortune, Russia defeated the vaunted Grande Armée and sent the invading legions back where they had come from. The combination of terrible French logistical planning, weather, and an adamant foe destroyed the Grande Armée. Conditions became so bad that Napoleon abandoned his army to return to France.
Upon his arrival in Paris, the battle-fatigued emperor set about creating a new army. He exhibited his prodigious talents to build, seemingly from thin air, a force that outnumbered his foe. He drew upon France's enormous patriotism to fill the ranks with young men willing to give their all to emulate the soldiers who had served before them. Even his allied states contributed thousands of fresh recruits. It was no fault of their own that they failed. Rather, their leaders were unequal to the task at hand. Meanwhile, their opponents, most importantly the Prussians, fought with splendid zeal to restore their tainted heritage.
Napoleon 1813 describes and explains Napoleon's efforts to recover from the catastrophe of 1812. It dismisses many conventional myths regarding the spring campaign of 1813. Was Ney to blame for the campaign's failure? What role did Napoleon's lack of cavalry play? Did one of history's 'Great Captains' have a realistic chance to preserve his reign? On the allied side, the role of Prussia is described, including the critical contribution of the much-scorned Prussian King Friedrich Wilhelm III. Blücher and the Prussian General Staff emerge with relentless determination to fight the French. Their distrust of the Russians and their own blunders threaten to unravel the Russo-Prussian alliance. At the heart of the allied effort is Tsar Alexander. His messianic vision to bring down the French emperor works at odds with his decision to usurp command of the allied armies from the military professionals. Throughout the story of the tumultuous spring days, Napoleon 1813 gives voice to the soldiers who participated in a campaign that proved Napoleon's last, best chance to preserve his dynasty.
464 pages including 35 maps, 71 illustrations, and two appendices.
Table of Contents
Introduction: June 24, 1812
Prologue
Chapter I. Alexander's Vision

Part 1. The Defection of General Yorck
Part 2. Eugène's Trials

Chapter II. A New Army

Part 1. Conscripts, Cohorts, and Navy Gunners
Part 2. The Cavalry Problem

Chapter III. The Allied Armies

Part 1. The Tsar's Army
Part 2. The King's Army

Chapter IV. The Battle of Möckern
Chapter V. Convergence on Saxony

Part 1. Sojourn in Mayence
Part 2. Problems of Command

Chapter VI. The March to Lützen

Part 1. The Challenge of Coordination
Part 2. Death of a Comrade

Chapter VII. The Fate of Germany

Part 1. Approach March
Part 2. Reconnaissance
Part 3. First Contacts

Chapter VIII. Surprise Attack

Part 1. The Botched Deployments
Part 2. The Killing Box
Part 3. To the Sound of the Guns

Chapter IX. A French Victory

Part 1. The Master Arrives
Part 2. East of the Floss-Graben
Part 3. Napoleon's Counterstroke

Chapter X. Lützen Aftermath

Part 1. Confusion in the Dark
Part 2. Battle Assessment

Chapter XI. On to Dresden

Part 1. A Barren Pursuit
Part 2. The Last Capital
Part 3. Resetting the Pieces

Chapter XII. Convergence on Bautzen

Part 1. The Decision to Fight
Part 2. The Combats of Königswartha and Weissig

Chapter XIII. The First Day at Bautzen

Part 1. Pinning Attack
Part 2. Wittgenstein's Revenge

Chapter XIV. Decision at Bautzen

Part 1. Battle in the Morning
Part 2. The Struggle for Preititz
Part 3. Napoleon Attacks

Chapter XV. Austria in the Balance

Part 1. Battle's Aftermath
Part 2. Death of a Friend
Part 3. Change of Command

Chapter XVI. End Game

Part 1. The Truce
Part 2. Pass in Review
Part 3. Checkmate

Appendix I. French Order of Battle
Appendix II. Russo-Prussian Order of Battle
Bibliography
Index
Detailed Orders of Battle
For the true buffs, we provide appendices complete with army composition and organization and orders of battle. From Appendix I. French Order of Battle:
III Corps April 25, 1813 ~ Commander: Marshal Michel Ney ~ Chief of Staff: Gouré

8th Division Souham
1st Brigade Chasseraux
6th Léger provisional
10th Léger prov.
14th Léger prov.
10th Léger prov.
2
2
2
2
36
36
39
37
1,662
1,541
1,558
1,258
2nd Brigade Chemineau
21st Ligne provisional
24th Ligne prov.
22nd Ligne
2
2
4
32
34
79
1,572
1,555
3,088
artillery
387
16 pieces
engineers
Spanish sappers
187
train
61
division total: 13,103
9th Division Brenier
1st Brigade Anthing
2nd Léger prov.
29th Léger
136th Ligne
2
1
4
35
19
77
1,177
659
2,709
2nd Brigade Grillot
138th Ligne
145th Ligne
4
4
86
92
2,709
1,925
artillery
5
349
16 pieces
engineers
Spanish sappers
2
163
train
1
28
division total: 9,398
10th Division Girard
1st Brigade Goris
4th Léger provisional
139th Ligne
2
4
38
98
1,012
2,353
2nd Brigade Van Dedem
140th Ligne
141st Ligne
4
4
78
82
2,537
1,923
artillery
7
358
16 pieces
engineers
Spanish sappers
3
178
train
Spanish sappers
29
division total: 9,719
11th Division Ricard
1st Brigade Tarayre
9th Léger
17th Ligne prov.
18th Ligne prov.
2
2
2
27
33
29
1,218
1,376
1,139
2nd Brigade Dumoulin
142nd Ligne
144th Ligne
4
4
89
94
2,008
1,940
artillery
3
367
16 pieces
engineers
Spanish sappers
2
181
train
1
28
division total: 8,506
39th Division Marchand
Baden Brigade
GM Stockhorn
Grande Duc No. 3
Stockhorn No. 1
2
1
29
14
1,658
664
Hessen Brigade
Prince Emile
1st Léger
2nd Ligne
Guard
2
2
2
19
37
30
1,315
1,242
1,250
Frankfort Brigade
Regiment Zweyer
1
16
676
artillery
Baden
Hessen
3
1
127
119
4 pieces
3 pieces
division total: 7,200
Cavalry Brigade
Laboissière
10th Hussars
Baden Dragoons
3
4
32
26
685
474
corps troops
engineers
gendarmes
train
10th Hussars
Baden Dragoons
7
2
1
387
48
117
corps artillery not yet arrived
III Corps total: 48,593; 71 pieces