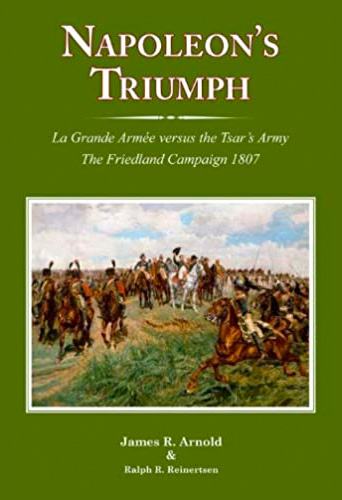 By James R. Arnold & Ralph R. Reinertsen
Hardcover: 440 pages
Publisher: Napoleon Books (2011)
ISBN-10: 0967098548
ISBN-13: 978-0967098548
Price: $52 plus postage
February 1807 found one of history's foremost military geniuses, Napoleon Bonaparte, retreating with his battered army from the bloody, inconclusive Battle of Eylau. It was the first significant setback experienced by the Emperor Napoleon. The battle dimmed the aura of invincibility surrounding the emperor and his Grande Armée. For the first time in his career Napoleon had met a foe capable of resisting his sweeping strategic thrusts and tactical flourishes. For the Grande Armée, an uncertain future spent in Poland's winter wastelands loomed.
Eylau emboldened Napoleon's foes, most importantly Tsar Alexander and the commander of his field army, General Leontii Bennigsen. The tsar's army issued from the fortress of Königsberg to drive the French west. His offensive gained territory until it encountered firm resistance that showed Napoleon's veterans had not lost their fighting prowess. The exhausted armies entered winter quarters while the Russian tsar and French emperor summoned tens of thousands of fresh troops to the front. Simultaneously, Russia and Prussia dispatched envoys to their coalition partners in an effort to coordinate a series of strokes designed to topple the apparently faltering French emperor.
The allied combinations failed, their efforts thwarted by the inherent problems of coalition warfare. It was left to French and Russian soldiers to determine Europe's fate. A ten-day span in June 1807 witnessed a fluid series of combats and battles culminating in Napoleon's decisive triumph at the Battle of Friedland. Occurring a mere four months after Eylau, Friedland represented a stunning reversal of fortune. Then came Tilsit, where Napoleon masterfully dictated terms to the humbled king of Prussia and rearranged the map of Europe with his new ally, Tsar Alexander.
Using primary sources gleaned from libraries and archives in Europe and the United States, Napoleon's Triumph describes Napoleon's amazing reversal of fortune. It relates the winter battles that blunted the Russian offensive and then turns to the complex, dramatic Siege of Danzig. Renewed campaigning in the spring witnessed yet another surprise Russian offensive. But for the leadership of Marshal Michel Ney, Bennigsen would have removed a major French piece from the strategic chessboard. Instead came Napoleon's counteroffensive leading to the Battle of Heilsberg, Napoleon's least-understood major battle. The decisive triumph at Friedland occurred four days later, an encounter heretofore shrouded by biased interpretations, one designed to burnish Napoleon's image, the other to explain away a bad Russian defeat.
Lavishly illustrated with portraits, drawings, paintings, and maps, and supplemented with detailed appendices on the strengths and composition of the rival forces, Napoleon's Triumph provides an original interpretation of the 1807 campaign.
440 pages with detailed orders of battle, images, and 39 maps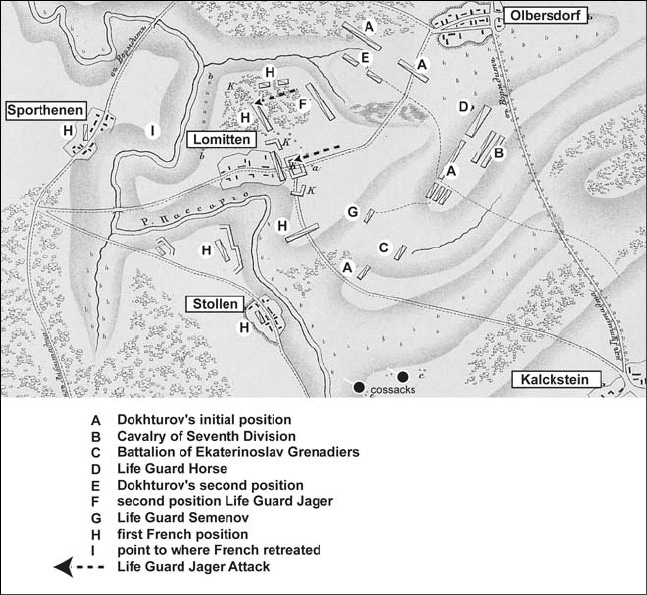 Table of Contents
Introduction: Eylau, February 13, 1807
Chapter I. The Battle of Ostrolenka
Chapter II. Polish Winter

Part 1. From Eylau to Braunsberg
Part 2. Mission to London

Chapter III. The Strategic Landscape

Part 1. Allied Winter Quarters
Part 2. French Winter Quarters

Chapter IV. Battle for a Fortress

Part 1. The Isolation of Danzig
Part 2. Battle for the Nehrung

Chapter V. The Siege of Danzig

Part 1. Sorties and Sapheads
Part 2. The Vise Tightens

Chapter VI. The Relief of Danzig

Part 1. The Matter of Gunpowder
Part 2. Relief Force

Chapter VII. Spring Recovery
Chapter VIII. Bennigsen's Trap

Part 1. Diversionary Attacks
Part 2. Ney's Fighting Withdrawal

Chapter IX. Napoleon's Counteroffensive

Part 1. Pursuit to Guttstadt
Part 2. The Road to Heilsberg

Chapter X. The Battle of Heilsberg

Part 1. Bagration's Rear Guard
Part 2. Bloodbath

Chapter XI. Three Days in June
Chapter XII. Morning at Friedland

Part 1. Dawn Fire
Part 2. Grouchy Secures the French Left

Chapter XIII. Napoleon's Triumph

Part 1. Ride to Glory
Part 2. "As if hell had opened its jaws"

Chapter XIV. The Road to Tilsit

Part 1. Aftermath of Battle
Part 2. The Emperors Convene

Chapter XV. Nations and Men: Summer Assessment 1807
Appendix I. French Order of Battle
Appendix II. Russian Order of Battle
Appendix III. Prussian Order of Battle
Appendix IV. Battle of Ostrolenka, February 16, 1807
Appendix V. Battle of Heilsberg, June 10, 1807
Appendix VI. Battle of Friedland, June 14, 1807
Full Battlefield Maps

Plan du Champ de Bataille d'Ostrolenka
Plan du Siège de Dantzick en 1807
Plan du Champ de Bataille d'Heilsberg
Plan du Champ de Bataille de Friedland

Bibliography
Index